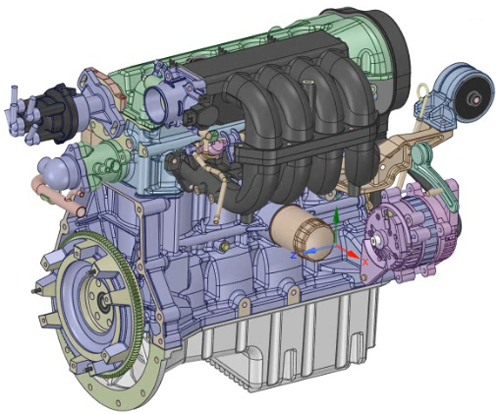 Discovery SpaceClaim 3D CAD Direct Modeler
Freedom to Create, Edit, and Repair 3D Models
ANSYS Discovery SpaceClaim is a multipurpose platform for providing efficient solutions to common 3D CAD modeling tasks. It makes it easy for anyone to create, edit, or repair geometry without worrying about the underlying technology.
The direct modeling methodology frees you from the constraints of traditional concept modeling. Focus on the creative design process and not on the technology. SpaceClaim removes geometry problems associated with various 3D CAD operations including:
Design or concept modeling
Repair of translated CAD files
General model defeaturing
Complete model editing
---
Benefits
Advantages to using Discovery SpaceClaim compared to other CAD modeling software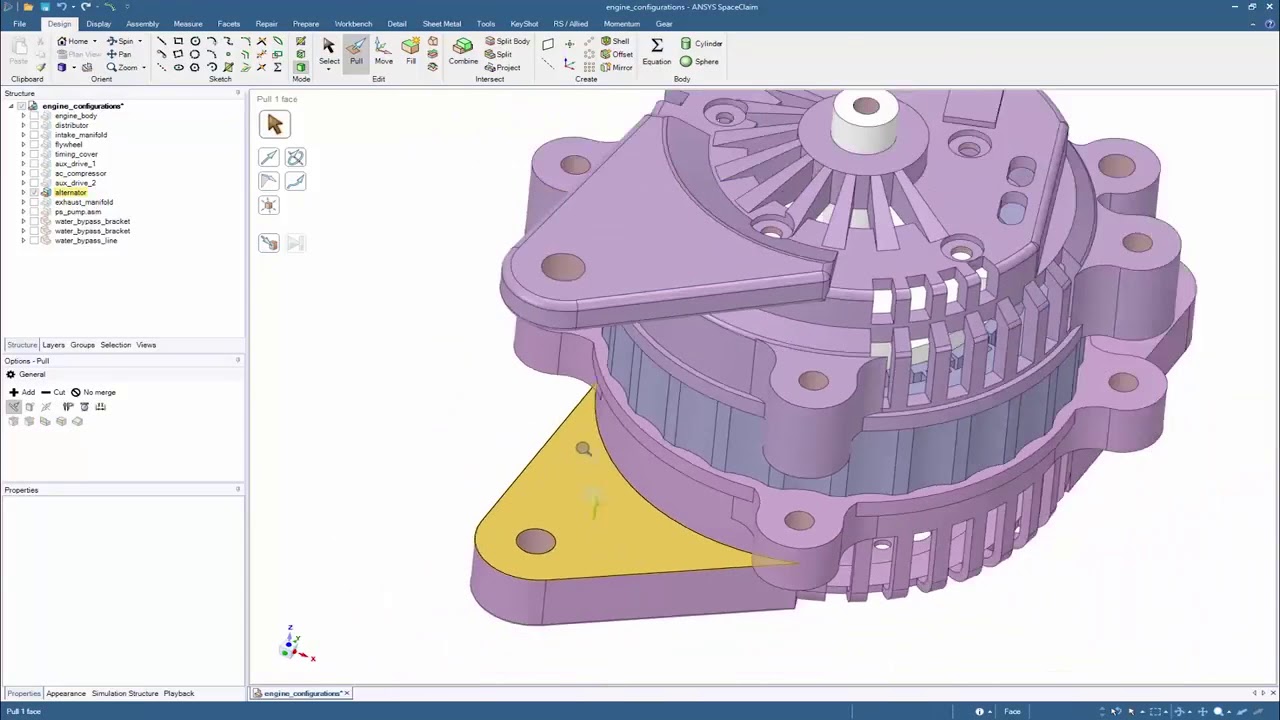 Cost-Effective
Discovery SpaceClaim is an extremely cost-effective solution for tackling small to large modeling problems. It's reasonably price at a fraction of the cost of traditional parametric CAD modeling package. Finish projects faster and cheaper in the market.
Do It Faster
Quickly create, edit, or repair 3D CAD or faceted file types. Import and integrate any geometry in one environment, no matter the origin (suppliers, in-house library, or online resources). Easily share your ideas with customers, R&D engineers, CAE analysts, team members, and manufacturing.
Flexible
Regardless of the modeling task or your formal training, Discovery SpaceClaim's unique toolset enables you to create rough concepts, detailed designs, or edit 3D data created in other CAD systems. Use the same tools to prepare models for any faceted/STL file for downstream use.
---
Reverse Engineering
Converting 3D scanner or faceted data into usable 3D models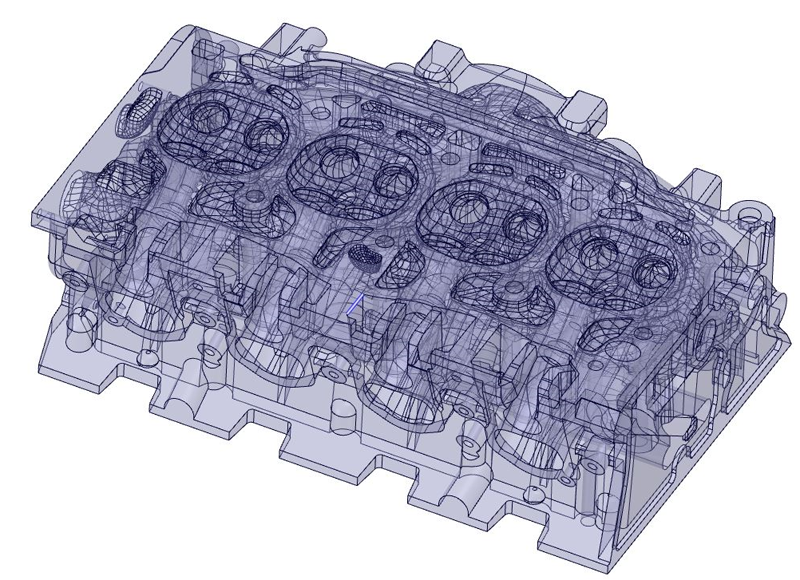 Discovery SpaceClaim is unbeatable in terms of power, ease of use, and flexibility for reverse engineering applications. Intuitive tools rapidly and easily convert any faceted data to surfaces or solids for downstream use. Regardless of the scan integrity, any STL files can be rapidly converted to CAD format. Use intuitive and powerful tools to autosurface simple or complex mesh data, build intricate parts, or recreate fixtures quickly and efficiently.
Key features of using SpaceClaim for reverse engineering include:
Automatic surface fitting along facets of any STL file
Create and modify highly organic skinned surfaces
Sketch curves along the facets of an STL file
Easily create fixtures around faceted data
Rapid blending of period loops in recreating complex geometry
Clean up messy scans
---
Design and Concept Modeling
Design the way you think

Achieve new levels of innovation through product design and development. Discovery SpaceClaim enables you to easily visualize, communicate, and evaluate designs in 3D. Traditional/history based modeling tools can be restrictive and hinder the initial concept design phase of product development. SpaceClaim frees you from the constraints of history-based concept modeling to create parts, assemblies and drawings as quickly as your ideas are concieved.
Key features of using SpaceClaim for design include:
Full part and assembly modeling
Detailed drawings including full 2D/3D GD&T
Photorealistic rendering capabilities with Keyshot
Open/edit files from neutral and native CAD systems
Complete help guide and tutorials for a rapid start
---
Pushing the Boundaries of 3D Scanning Technology
Flexibility for users to easily adapt the system to fit their needs
Rapid Geometry Creation

Discovery SpaceClaim's streamlined tools and workflows mean you can create rough concepts, detailed designs, tooling/fixtures, CAE related geometry, or reverse engineer an STL file into a clean 3D CAD model in seconds.

STL File Manipulation

Watertight or clean STL files are easy to achieve with Discovery SpaceClaim. With faceted data editing tools, you can inquire, repair, and optimize STL files for downstream use such as 3D printing and reverse engineering faster and more efficiently than ever before.

Model Repair

Whether importing models for a new design, generating toolpaths on a solid body, or needing a high quality mesh for simulation, the input requirement of clean geometry is the same. Automated repair tools accelerate time to mesh by healing dirty and incomplete CAD files fast.

Easy to Learn

Discovery SpaceClaim is the easiest CAD tool you'll ever learn. With only 4 tools (Pull, Move, Fill, Combine) that perform 80% of the common modeling tasks, it's designed to be a go-to tool that anyone could begin using with minimal training.

CAD Import and Editing

Simple and powerful tools defeature both parts and assemblies prior to meshing and solving, in a fraction of the time of traditional CAD tools. SpaceClaim is built on direct modeling technology. You can defeature and edit your file without regard for rebuild errors or needing to understand how a file was initially constructed.

Versatile

The geometry centric nature of SpaceClaim means that the same powerful tools are used across different use cases. For example, you might use the Pull tool to create a fixture for manufacturing, but it is versatile and powerful enough to aid in the repair of geometry by extending surface bodies.
---
Other Applications
Discovery SpaceClaim value in other downstream applications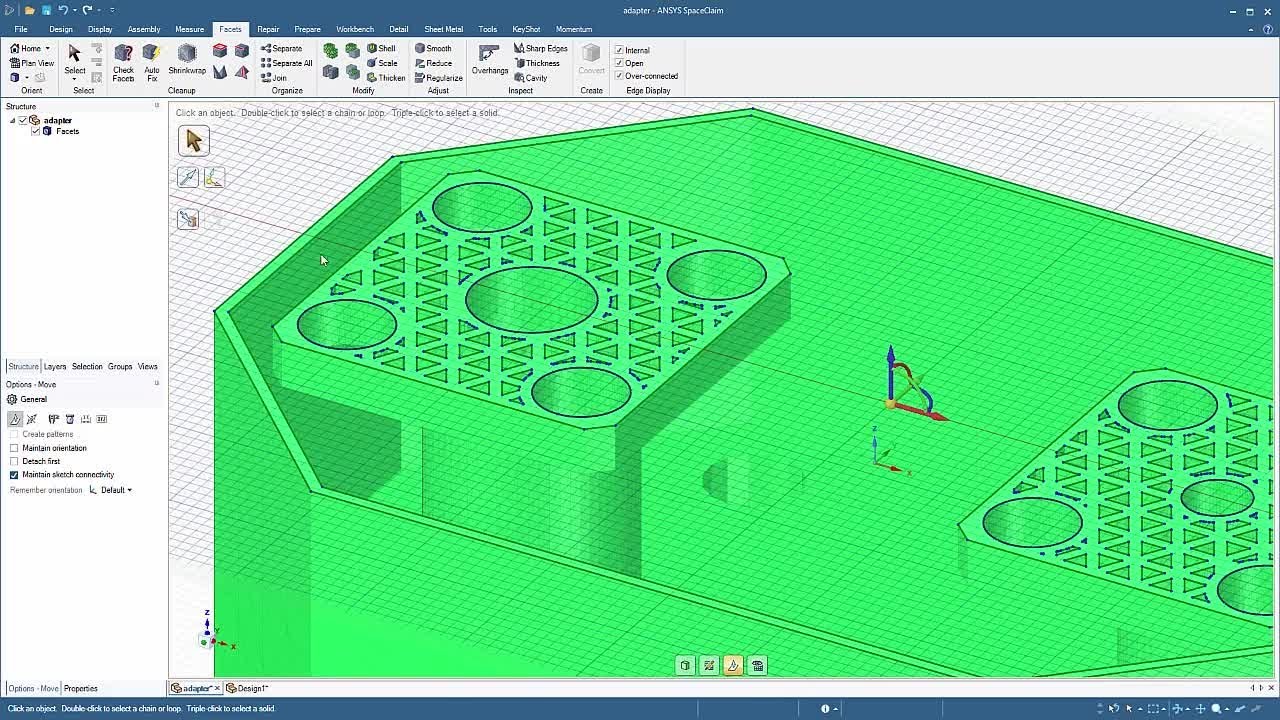 Simulation and Analysis
Rapid Geometry Modification
No longer do you have to outsource CAD modifications to another department or firm. SpaceClaim was built to empower every engineer and analyst to quickly modify, optimize, and parameterize any CAD file to reduce mesh complexity and reduce simulation solve time.
Model Prep for Manufacturing
Boost Productivity without Hiccups
Prepare models for manufacturing steps and maximize machining time. Edit any CAD file, repair corrupt or difficult CAD files, and design jigs and fixtures faster than ever before.
3D Printing from Digital to Physical
Create WaterTight Models
Make any 3D file print-ready. Analyze and repair dirty or corrupt faceted data, or quickly create, edit and prepare optimized models for 3D printing.
Sheet Metal Design and Manufacturing
Flexible Modeling and Folding
Complete sheet metal jobs quickly while minimizing downtime on a shop floor. Design enclosures and convert 3D files to unfolded layouts. Import and repair unfoldable sheet metal designs.
Request A Quote
Get Pricing on SpaceClaim Direct CAD Modeling Software.
Contact Us